Vision. Action. Hope.
This was the theme of the annual NetHope Global Summit, held in San Juan, Puerto Rico last week. The location was a significant and deliberate choice. Just two years prior, NetHope was actively contributing to humanitarian relief efforts on the island in the wake of the devastating category 5 Hurricanes Irma and Maria. Just two months after Maria hit, NetHope began exploring the opportunity to host this year's event on the island and invest in Puerto Rico and the Caribe Hotel. With this year's theme in mind, it was a fitting and inspiring tribute to the resilient community and the progress made in the past two years.
The NetHope Global Summit was kicked off with a discussion between individuals who had directly experienced the aftermath of Hurricane Maria two years prior. Luis Arocho, Minister for Disasters during the time of the disaster, reflected that they were still combating damage from Hurricane Irma when Maria hit. The devastation had been immense but it was NetHope that stepped in immediately in the wake of the storm to become game-changers – setting up mobile satellites in strategic locations to connect municipalities to central response efforts and to connect people with hospitals and families on the mainland. Information, in the aftermath of these emergencies, is as essential a basic need as food and water. Survivors and responders benefit immensely from connectivity; the more data that is available, the more precise and efficient the response effort will be. With access to information and data, NetHope was able to get people and places back online for a better understanding of the landscape and coordination of relief efforts.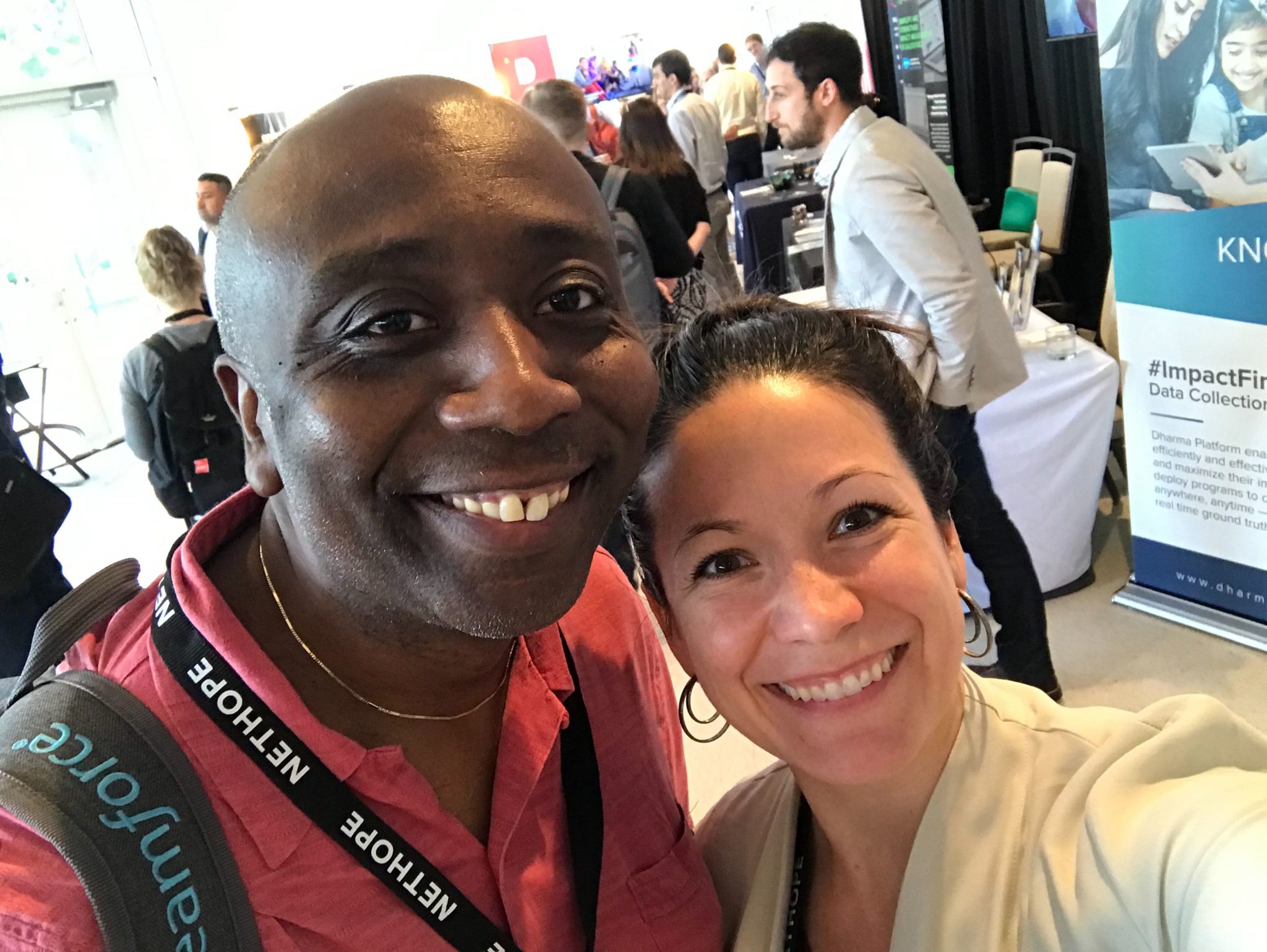 We heard a lot of excellent sessions during the week, kicking off with Lauren Woodman, NetHope CEO, who spoke about their continued commitment to using technology for change, particularly their Digital Nonprofit Assessment (DNA) research. Produced by the Center for the Digital Nonprofit, the assessment tool helps nonprofits sense check where they are and where they want to be along their journey to become a digital non-profit. Leveraging collaboration between technology partners, donors and implementing agencies, they are looking to tackle digital transformation by providing the self-help resources for digital literacy and a network of expertise to identify an organization's digital goals and chart a plant to achieve them. Avanade ran a joint session with the Center for Information Systems Research at MIT Sloan (MIT CISR), walking attendees and members through the results of their future-ready research, looking at the way for-profits are approaching digital transformation. Pablo Suarez, Red Crescent Climate Centre, gave a great talk on the value and good that comes from finding Humor in Humanitarian Work.
One particularly pragmatic and noteworthy session was led by Jonathan Palmer, Executive Director of Strategic Technology for the Wildlife Conservation Society, on the need to collaborate on technology to drive greater impact in the areas where NGOs work. Palmer presented the digital journey of 8 organizations to utilize digital tools and new technologies to eradicate poaching and protect wildlife. The approach brought together a large group of people with a common mission, but disparate approaches to technology and limited resources to implement change. Pooling their ideas and funding, and compromising slightly on each partner's vision of the "perfect solution," the alliance leveraged relationships with the private sector to develop solutions that serve everyone. There is no panacea for wildlife conservation, and the same is true about technological solutions to prevent poaching. However, by engaging a community of stakeholders in a process that is iterative and collaborative, partners will achieve greater progress toward their common goal.
As Palmer states in his abstract, "This isn't a one-size-fits-all approach, but an argument for collective effort and coalitions the will deliver exponential impact."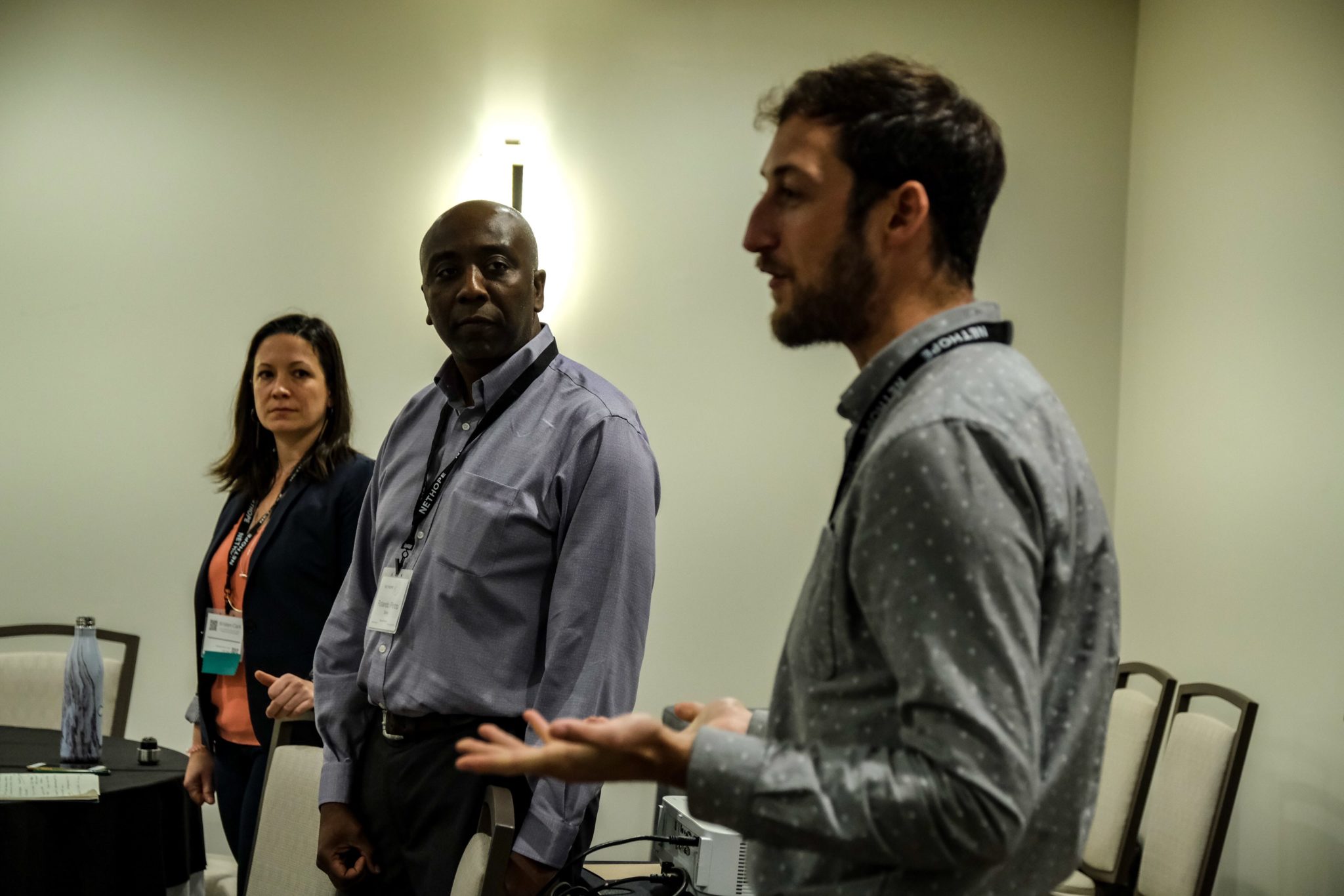 Speaking of finding common goals, Kristen Clark and Josh Balser of Dharma were excited to share the floor with Rolando Pintro, from the Seva Foundation, for a session on establishing common data practices across borders and cultures. Collecting uniform data across borders is a tricky endeavor, one that has to account for differences in learning styles, language, processes, and geography. When developing an instrument to standardize data collection across over 90 hospitals and 20 countries, agreeing on the lowest common denominator should be the mandatory data collection baseline. "What data do we absolutely need?" Additionally, by placing an emphasis on the tailored ways technology can be used by individuals, people start to interact with their data in a way that suits their comfort level and interest. When people can see results that are relevant to them, they become more likely to take ownership of the data and what it tells them about their impact.
Seva Foundation attempted this by placing an emphasis on visuals and time-series depictions of data to reach a broader audience and create a culture of ownership. These data visualizations show users observable trends from their work – often with insights that are surprising, both good and bad. With that information, programs can make necessary, informed, adjustments. Another lesson learned in promoting good data practices across borders is sequencing the rollout of new technologies. It's gradual; wean people off of old systems by making incremental steps that are comfortable, understandable and transparent until arriving at a desired common system. Seva went through a series of reprisals themselves when transitioning to Dharma Platform. They worked their way from irregular spreadsheets manually merged into a common database by one person, to a standardized template, and eventually to a template mimicking Dharma's collection experience. Finally, Seva Foundation is migrating over to a mobile form with direct data collection on Dharma Platform's app.

Eighteen years after its inception, the NetHope Global Summit brought together five working groups, ten workshops, 22 keynote/plenaries, 60 breakout sessions, four service projects, and 600 attendees to discuss the power of collaborative technology to change the world. It was a pleasure to be a part of the experience for a second year and we can't wait to see what progress the next year brings.